About CTAIRA
CTAIRA was founded by Chris Tarry in 2002.
After building his reputation working for a number of leading financial institutions and spending some 20 years as a top rated analyst in the City of London, Chris established himself as an independent aviation analyst and advisor in 2002. He has served as special advisor on aviation policy issues to the UK Government, to Parliamentary Committees and to the Civil Aviation Authority; he has also advised a number of airlines as well as major airframe manufacturers and aircraft lessors on strategic development issues.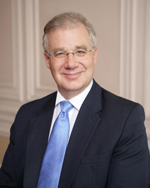 He has carried out assignments involving business plan assessments for major carriers on behalf of banks and investors; in-depth reviews of prospects for European airline consolidation; evaluations of major international airlines on behalf of potential investors; and strategic reviews of airlines undergoing structural change. He works at senior management and Board level.
He is a member of the European Advisory Panel of All Nippon Airways and has been appointed a member of the "Vison 2050" Group established by the Director General of IATA to consider the future of the airline industry
Chris can access teams to work on specific technical projects where necessary
Chris writes a monthly column for Airline Business Magazine, is a senior visiting fellow at the University of Surrey , and regularly lectures at the London School of Economics and Oxford University . He is also a judge on a number of the key Industry panels.
.